Breastfeeding Education Workshop
Take the next step in preparing for parenthood, with this informative and empowering Breastfeeding workshop!

Sunday 8th August 2021
9:00AM-12:00PM

Refreshments included.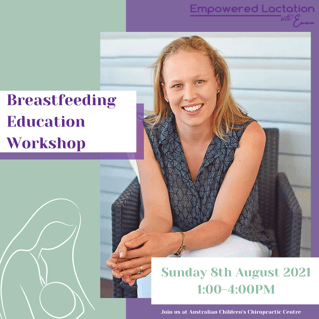 Leave Empowered And Informed With Tools For Ongoing Learning!
The Australian National Infant Feeding Survey statistics showed that in Australia in 2010, 90% initiated exclusive breastfeeding and

Only 15.4% of babies were exclusively breastfed to 5 months.




We put so much emphasis on learning how to take care of your baby through pregnancy and birth BUT what happens after your baby arrives?


Many women only get to experience getting a few hours of support before they leave the hospital on learning how to breastfeed. Whilst breastfeeding is natural, it doesn't always come easy!



It takes lots of practice, the right education, positioning and knowing your baby to get it all right.




---
This workshop is here to help you feel confident, informed and educated from the first moment with your baby + right through into the weeks and months ahead of your parenthood journey.
---
In this workshop you will learn about:
The benefits & risks of infant feeding options

Hormonal influence on breastfeeding

Breastmilk composition and changes

Hand expressing, storage of breastmilk

The let down reflex and milk transfer

Gut training for the infant

The first few hours with your baby

Neonatal primitive reflexes

Biological nurturing & tuning into your baby

The best positions to breastfeed
Optimal latch & suck

Infant output - what's normal

Crying & comfort sucking

Common myths & common complications

How to support breastfeeding

Your partner's role in supporting breastfeeding

Just one bottle or not?

Alternative feeding options

Gentle bottle feeding

How to seek support
Book Your Spot Here