Happy bellied babes




The A-Z of Gut Health for kids

!
Presented to you by Kimberly Kushner, Naturopath and Nutritionist.
---
There is nothing cuter than a baby's tummy! Did you know that the environment inside your babes gut
is ESSENTIAL to their immune development and overall health and wellbeing.
In this workshop you will gain a wonderful understanding of what a healthy gut means for your
child to help your babe be a happy bellied baby.
---
Wednesday March 21st 2018
11:00AM-12:00PM
Babies & Children welcome!
---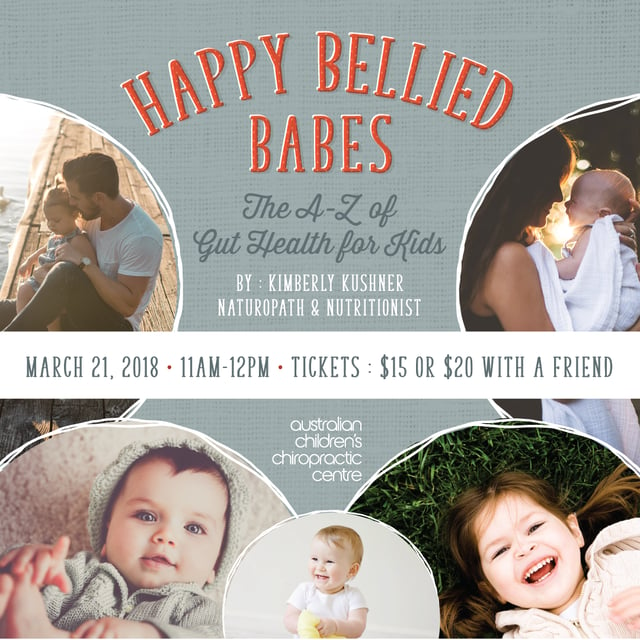 ---
AT THIS EVENT YOU WILL:
· Understand the importance of your child's digestive health
· What the gut microbiome is and why it's SO IMPORTANT!
· What the link is to the nervous and immune systems!
LEARN ABOUT:
· What do you do you do when your babe is having trouble with their tummy?
· What are the signs of an upset belly?
DID YOU KNOW?
· Eczema, asthma, allergies, irritability and more can all be linked to the state of your gut?
So much, just from the tummy!
---
BUY YOUR TICKETS HERE!
---
---
Join ACCC resident Naturopath/Nutritionist Kimberly Kushner for this event which is sure to be a popular one with alot of the families.
Kimberly is a very nurturing and passionate naturopath who places patient care and wellbeing as her utmost priority. Her goal in clinical practice is to facilitate the process of empowering her patients to achieve and maintain vibrant health.
Kimberly specializes in:
- Natural Fertility & Women's Health (PCOS, Endometriosis etc
- Pregnancy & Postnatal care
- Food intolerances & Digestive Health
- Children & Infant Health
- Healthy Weight Loss
- Genetics & Nutrigenomics (MTHFR and other genetic SNPs)
- Hormonal issues & adrenal fatigue (Thyroiditis, Diabetes etc…)
- Cardiovascular disease
And more…