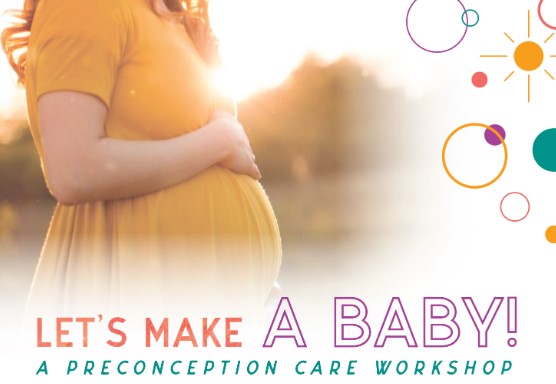 Calling all couples that are ready to grow your family!
Deciding to start or expand your family can be a big decision. Whether there is a conscious choice to begin to 'try' to conceive or your approach is more casual and trusts 'the stars align', this is the perfect workshop to help you bring your consciousness to all aspects of health and wellbeing and how it relates to fertility, hormones and health.
Learn from experienced health professionals who understand the ups and downs, ins and outs of motherhood.
Join Kate Johnston (Naturopath from Kore Well-Being), Jules Coffey (Doula from Mama 2 Mama), Shelley Lentfer (PT from Pineapple Fitness) and Dr Jacey Pryjma (Chiropractor from ACCC) to dive deep into the beautiful world of preconception care and making babies.
Perhaps you have had a history of concerns or maybe you've been lucky and your hormonal health has been smooth sailing but you want to learn more about your body and how to read its signs.
Shining a light on all things holistic health, this workshop will help you walk away with understanding how the following elements of life could be playing with your health, hormones and happiness.
Stress - emotional and physical
Movement & exercise

Environment

What you put IN and ON your body
Your Tribe and Vibe
Most of all, you'll get the information we as mothers wished we knew PRIOR to conceiving and for those of you pregnant, information that will SUPPORT you on this incredible journey of motherhood.
---
Join Our Free Webinar
Sunday 2nd February 2020!
8:00PM
During the introductory webinar you will discover gems from all four of our presenters. Join us online for a special webinar where we start our journey together. Through our presenters personal stories, you will understand how they became so passionate about preconception and pregnancy care, learn a little about the major AH HA moments that shifted their journeys and why finding your tribe during this transition time is so important - the energy when these four women get together is palpable!
SPOTS ARE LIMITED - CLICK BLOW TO LEARN MORE
---
Live Workshop Tickets
Dive deeper into health concepts

Sunday 23rd February 2020
10:00AM-1:00PM
For those in and around Newcastle NSW, you have the opportunity to be one of 30 to join our presenters to dive deeper into concepts around health and preconception care. This workshop is perfect for you if you...
- Are thinking about having children in the next 6 months to 2 years
- Are currently pregnant
- Are ready to begin trying for baby number 2, 3, 4 or more
Bring your partner or come along with a friend to enjoy an afternoon talking all things baby making.
---
Individual Couple Tickets - Purchase one ticket for you (partners come for free)
Bring A Friend Ticket - Purchase this if you're coming along with a friend
You're both welcome to bring partners along for free
Each house hold will enjoy a goodie bag of some of our favourite things
Tickets are limited - Book Now!