The Back To School Check-up
Calling all Kindergarten, Primary & High school kids and their parents!
Getting ready for school is an exciting and also a possibly scary time
in your child's life...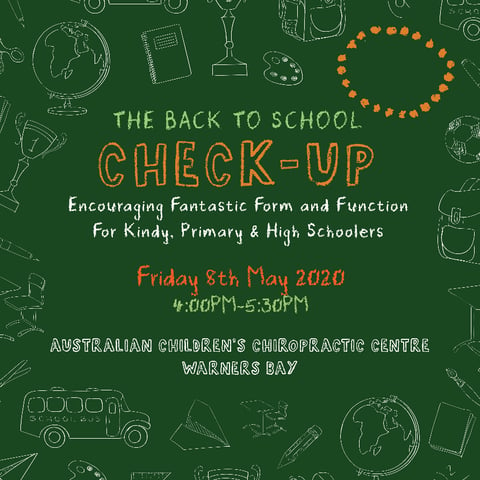 New Date Coming Soon!
Sign up to our Priority list to ensure you don't miss out on our important updates.
---
There is so much unknown and unexpected questions that are going on in their little heads; Will I make friends easy? what will my teacher be like? What happens if I don't know the answer to their questions?
Once a child starts primary school their bodies and brain are put to the test. They need to learn how to tie their shoes, how to properly carry school bags which are filled with books, water, clothes and other essential items, to sit up straight and to ration their food for an entire day.
Join our hosts Chiropractors Dr Amanda and Dr Jacey alongside Kate (Naturopath) as they share their tips and demonstrate ways to ensuring your child's school ready. In this workshop we will help your child learn the best way they can check themselves to ensure they are supporting their spine whilst wearing their school bag, and the importance of correct posture whilst spending hours of sitting, listening and learning.
Kate Johnston (Naturopath) will help by giving some yummy lunch box ideas and foods that will help give your child the best support with brain function for learning and nutritious foods to help with slow burning energy to get your child through the day.
This workshop is a fun and interactive time to help encourage your child/s to be excited, confident and give them practice ready for their big first school day for 2020.

Bring your child dressed in their school uniform along with their school bag packed with books, full water bottle and a nutritious
morning tea ready.
---
During this event you will:
Get your child feeling more comfortable and excited to go to school
Get their posture checked
Get their school bag checked on weight and position with books, water and other daily items which they will be carrying
Have a Nutritious morning tea whilst learning the best foods for energy and brain function for learning
Learn the best ways to ensure your child is giving themselves the best start
The workshop will be 1hr 30min and parents are encouraged to come along with their primary school children.