Yoga Classes For You & Your Family
3 Beautiful Classes
We have designed our yoga classes to facilitate connection and community. Join us upstairs in our 'treehouse' location, meet new mothers-to-be and families and enjoy gentle classes tailored to you.
Tuesday 9:15am - Mums & Bubs Yoga
Tuesday 10:15am - Mums & Tots/ Family Yoga
Wednesday 6:00pm - Prenatal Yoga
Class Schedule
Our yoga classes with Marion are held on Wednesdays during school term and this term will run over an 10 week cycle.
Book pack of 5 classes - save
Book for the term - save
Term 4 classes 2023
First classes: Tuesday, 10th October
No classes 24th/25th October
Last class: Wednesday, 13th December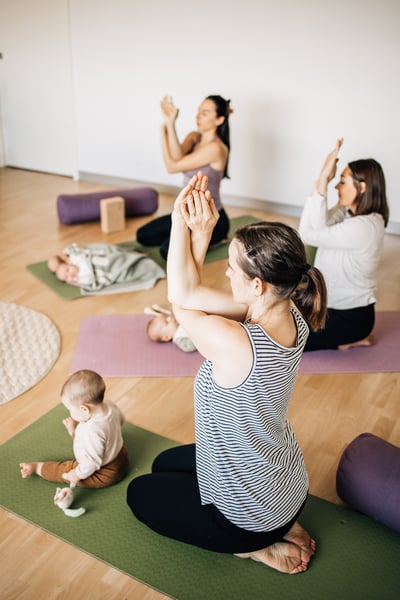 Book Your Classes Here!
Step 1 - Pick your class type
Step 2 - Chose your date
Step 3 - Create a login
Step 4 - confirm and pay!
---
HOW TO BOOK

IN A PACKAGE & SAVE 4 SIMPLE STEPS:
STEP 1 -

Click on 'Prepaid

' in the top right corner of the table below.
STEP 2 - Select THE Package you're after
STEP 3 - Click

'

SIGNUP'

to create your account

OR

login

and purchase your pack.

STEP 4 - Select your classes!
Caring for you
The purpose for our practice is to 'Cultivate Connection'. This is why we have created a space and opportunity for you to come, spend time and connect with your body while also staying with and connected to your children. It is through our actions, our children learn. Our goal is for you to get to know your body through all the changes of pregnancy and motherhood. To take time to feel, stretch and be present. Life is so chaotic! Join us to shift that pace and re-energise your mind and body through connecting movement, breath and community.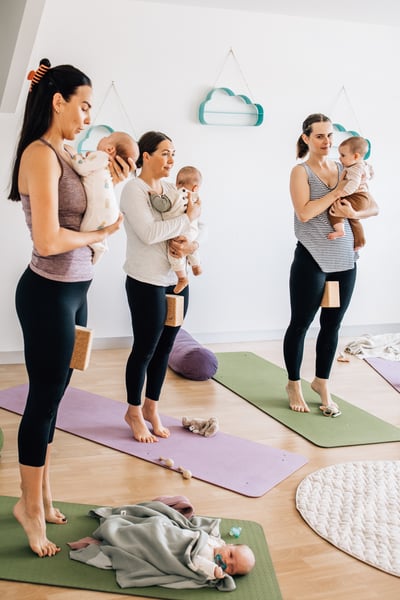 Mums & Bubs Yoga - Postnatal Classes
For Mums: 6 weeks post-partum to 12 months
Once you have passed 6 weeks post-partum, and you feel that its time to start slowly moving and supporting your body then our Postnatal Mums & Bubs class would be perfect for you.
This gentle class is designed to support your body to heal, strengthen and improve connection. Each week can build on the next and our teacher Marion will support you individually to thrive.
Bring you baby and enjoy this special time together.
Class Details
Held Tuesdays 9:15am (45mins)
Classes only $16.50 casually
Mums & Toddler Yoga - Family Classes
For Mums or Dads: Children from 12 months to 5 years welcome
In Mums & Tots Yoga, classes become closer to a traditional yoga class with a focus on the basics of a yoga practice, such as meditation, breathing, and movement. Stretching neck, shoulders and back, as well as finding our calm is at the heart of the sessions. The key difference with a 'normal class' is that you can bring your toddler with you.
No stress, the space is secured and with lots of things for them to do (wooden toys, puzzles, books, etc.), and they might even engage with the joy of yoga by copying us.So if you want to do something for you AND with your toddler, give it a try.
Classes are open for crawling and walking kids up to 4 years old. These classes are suitable for pregnant mamas too!
Class Details
Held Tuesdays 10:15am (45mins)
Classes only $16.50 casually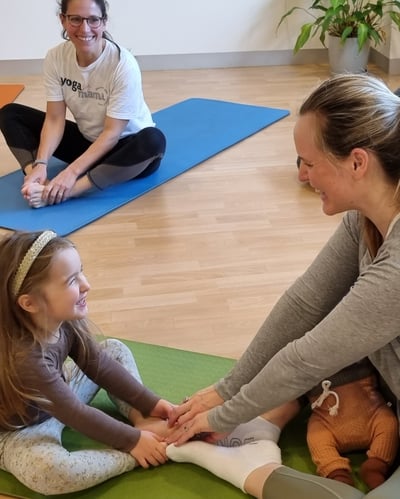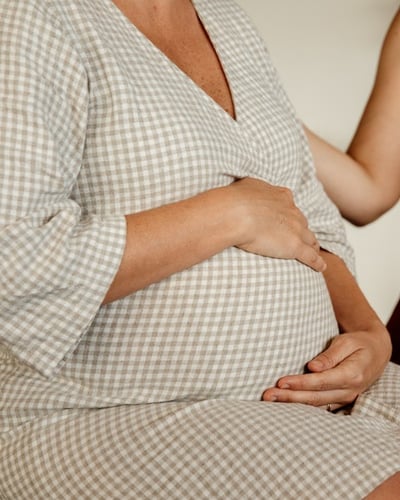 Pregnancy Yoga - Prenatal Classes
From: The first trimester right through your pregnancy
Our prenatal yoga classes are designed to support you through your whole pregnancy. From the moment you are pregnant your body changes rapidly.
This class is perfect for beginners to gently navigate moving the body as it changes week to week. Get to know other mothers-to-be and build your support network and community. Feel more centred and prepared.
Class Details
Held Wednesdays 6:00pm (60mins)
Classes only $22 casually
Meet Our Teacher Marion
Marion was 26 weeks pregnant with her first daughter when she undertook her 200h yoga training and already knew by then that she would look to deepen her knowledge in perinatal yoga, as she felt wonderfully connected and in tune with her emotions, body and baby.
She is dedicating her energy and passion to guiding women in their motherhood journey, through movement, breathing, connection and love. As a mum of 2, she likes to tap into her own birth and mothering experiences during her classes and makes sure mamas are supported, held and listened to.