Kick Start Your Career
New & Recent Graduate Program
We are thrilled to announce the start of our New & Recent Graduate Training Program at Australian Children's Chiropractic Centre (ACCC), Warners Bay NSW.
We are now officially opening our program!
Join the team at ACCC as a practicing chiropractor and enjoy our extensive training & mentoring program curated to fast-track your learning, integrate expert teaching, and provide hands support in practice.
This three-year training & mentoring program has been created in collaboration with Well Kids Program and Chiropaeds' Diplomate of Chiropractic Paediatrics.
Valued at over $25,000!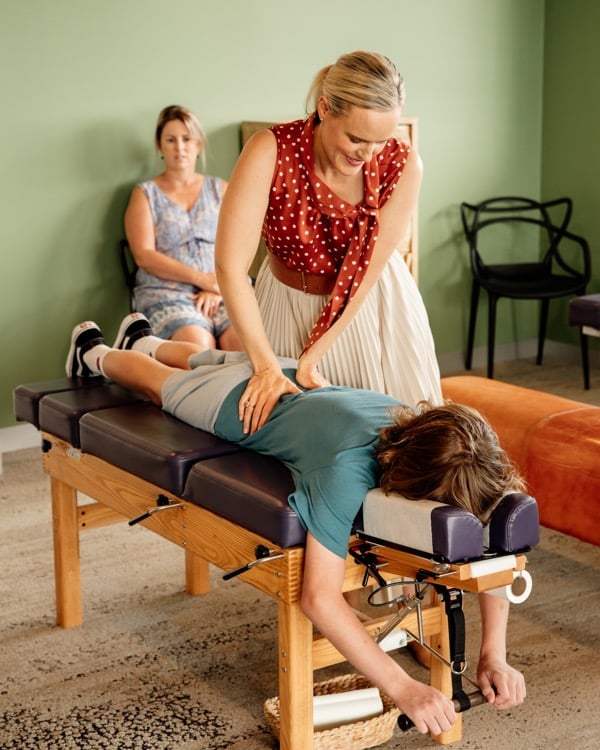 Bringing Certainty to your Career Progression
After recognising the difficulty new and recent graduates face in not only establishing their baseline knowledge of care of children, while also trying to gain real world experience working with children, Dr Jacey Pryjma knew an established program and practice was needed to support optimal growth in skills, confidence, and career progression.
Imagine being a role where your study and training was integrated into your work week. Where you were able to collaborate with leaders in care for children, learning under their leadership and then adjust day to day in a practice filled with babies, children & teens.
Your First Year
During the first year you will focus on skill acquisition in examination skills, adjusting skills, care management and communication. You will also be following year 1 of the Diplomate of Chiropractic Paediatrics course.
Your Second Year
Second year builds upon your care management skills, with higher level knowledge and skill development in supporting children's health while also moving into more community-based education programs building your skills as a presenter and skilled communicator. You will also be following year 2 of the Diplomate of Chiropractic Paediatrics Course.
Your Third Year
Final year of our program moves into mentoring and team leadership skills, where you will be supporting the next generation of chiropractors as they move through their 1st year in the program. The structured development of your mentorship and leaderships skills will continue to provide exceptional personal growth, furthering your career.
EXPRESSION OF INTEREST & Webinar
Want to learn more about the the New & Recent Grad Training Program and the Chiropractor role at Australian Children's Chiropractic Centre?
Dr Jacey Pryjma & Dr Braden Keil recorded a short webinar (15mins) to discuss how Dr Jacey's Well Kids Program Training and Chiropaeds Dipolmate of Chiropractic Paediatrics work perfectly together to create a launch pad for exception career progression and fast tracking skill development.
Pop your details below for the webinar link to be sent to you.
Eligibility Criteria
Applicants must
Be a student graduating and ready to start practice in early 2022 or
Recent graduate chiropractor with 1 to 5 years experience
Has not completed the DCCP with Chiropaeds (if you have consider applying for the Senior Chiropractor & Mentor role here)
Absolute passion for chiropractic care and really excited to develop skills to be a leader in care for children
Show evidence of interest in chiropractic care for children through observations, seminars or personal research
Must be able to begin work at ACCC in Jan/Feb 2022 in Newcastle, New South Wales.
Do you have more questions?
We would love to offer you a quick chat with Dr Jacey
We understand that this may be a big move to make and you may have more questions about this exciting opportunity. That is why we are offering you the chance to have a quick casual chat with Dr Jacey over the phone, which is a confidential and no obligation call.
Get all of your questions and concerns answered, or just find out if this role is suitable for you before you apply.
---
READY TO APPLY?
Applications close Fri Nov 26th 2021
To apply for a role at Australian Children's Chiropractic Centre please send a short video (5min max) or cover letter about yourself an expression of interest for a position to: jacey@childrenschiropractic.com.au
Please include in your application:
Information about your chiropractic education
Why you would be the perfect addition to our team and how you would make the most of this opportunity.
Your personal goals as a chiropractor who works specifically with children.
Please note your video is reviewed on content, not on creativity. A simple video of you talking to the camera is all we are after.