3 Year Advanced Paediatric Training & Mentoring Program
Start date between Nov 2023-March 2024
Applications are now open for the 3 Year Advanced Paediatric Training & Mentoring Program at Australian Children's Chiropractic Centre (ACCC), Warners Bay NSW.
Extensive Mentoring & Advanced Training
Join the team at ACCC as a practising chiropractor and enjoy our extensive 3 year advanced training & mentoring program curated to fast-track your learning, integrate expert teaching, and provide hands support in practice.
This three-year training & mentoring program has been created in collaboration with Well Kids Program and Chiropaeds' Diplomate of Chiropractic Paediatrics.
Valued at over $25,000 per year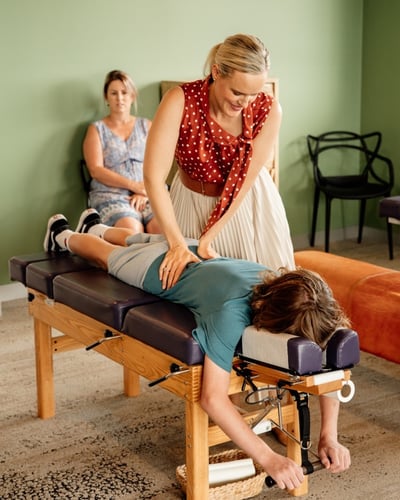 Gain Clinical Mastery
Stay at the forefront of advancements in research and clinical updates while caring holistically for families.
While you study and practice with us you will develop:
Excellent understanding of normal stages and ages of childhood development

Extensive understanding of neuro-development and its impact on quality of life

Enhanced communication skills

Exceptional examination skillset

Neuro-developmental focus for children

Holistic Pregnancy Care

Adjusting focus/protocols for every stage

Appropriate condition management - incl framework of latest research, protocols & referral systems

Family engagement and education strategies
Gain Personal Mastery
Our Advanced Training Mentor Program combines leadership development with innovation in the paediatric chiropractic care setting.
Enjoy mentoring for personal growth, development and personal mastery

Learn our holistic approach to planning career goals and achievements

Focus on finding your perfect day/week in practice

Develop your unique marketing strategies with your dedicated team to see more of the families that interest you

Working towards unique career pathways, including;

Future mentoring opportunities

Marketing & social media roles

Events & workshop creation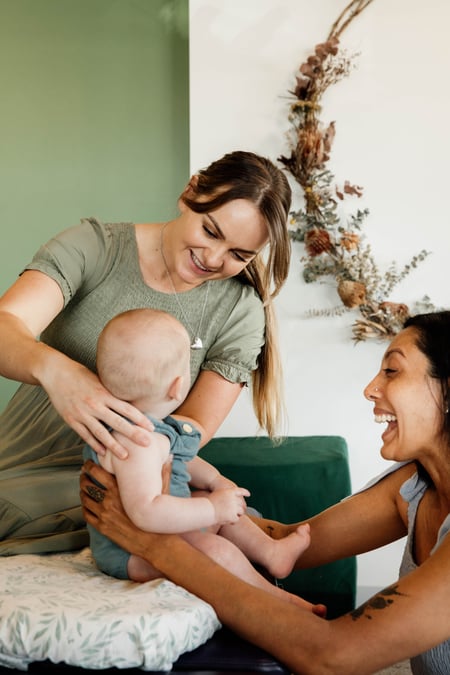 For Chiropractors Striving for Excellence
Advancement in research and clinical knowledge brings exceptional opportunities for Chiropractors to transform the lives of children under care. The difficulty comes from translating the learned knowledge from courses available into daily practical systems.
Exceptional skills and outcomes in practice come from repetition, developing skills and gaining feedback from mentors and consistent application of research into day-to-day practice. This usually takes around 10 years+ for practitioners.
Our 3-year Advanced Training & Mentor Program was created to fast-track Chiropractors in three ways;
Providing you with an incredible practice where you adjust babies, children and teens all day. You will see more babies in one week than many chiropractors see in 6 months.
Active Mentoring & Training every week to advance both Clinical and Personal Mastery
Coaching through the Chiropaeds program and active integration of the latest research into clinical protocols, systems and education
Imagine being in a role where your study and training were integrated into your work week. Where you were able to collaborate with leaders in care for children, learning under their leadership and then adjust day to day in a practice filled with babies, children & teens.
Your First Year
During the first year, you will focus on skill acquisition in examination skills, adjusting skills, care management and communication. You will also be following Year 1 of the Diplomate of Chiropractic Paediatrics course (paid by us!).
Enjoy 2 hours of weekly mentoring and CPD course and hands-on material
Weekly 1:1 Coaching & Mentoring
Unlimited clinical support and mentorship for care management & clinical application
Extensive access to industry leaders and additional clinical content exclusive to our program
Paid study hours & Chiropaeds course content support
Your Second Year
The second year builds upon your care management skills, with higher-level knowledge and skill development in supporting children's health while also moving into more community-based education programs building your skills as a presenter and skilled communicator. You will also be following Year 2 of the Diplomate of Chiropractic Paediatrics Course.
Your Third Year
The final year of our program moves into mentoring and team leadership skills, where you will be supporting the next generation of chiropractors as they move through their 1st year in the program. The structured development of your mentorship and leadership skills will continue to provide exceptional personal growth, furthering your career.
Do you have questions?
We understand that we are offering something incredibly unique and different and you may have more questions about this exciting opportunity. That is why we are here to answer any questions you may have.
Have all of your questions answered, or just find out if this role is suitable for you before you apply.
FAQs
1. Is it a full-time or part-time position?
The position is a full-time chiropractic associate role, which includes a schedule of mentoring, study, training and coaching, administration, and your practising hours.
2. What would be the salary range for this position?
The salary package range depends on years of experience.
We pay for ChiroPaeds for the two years (valued at 12k+)

We also invest heavily in your development with dedicated training, mentoring and coaching. This is worth another 25K+ over two years.

The full package is worth over $100,000/pa

In addition, we offer a rewards schedule (bonus) on top. This is available after the end of the probationary period

We aren't all about numbers, your salary growth reflects your personal and professional progression in your skill development.
3. Is the position and training to be commenced in March 2024?
Chiropaeds begins in March 2024. So that is the latest start date for the associate role. We can start the lucky applicants as soon as November 2023.
An earlier start date is helpful as allows associates to get settled into practice, systems, procedures, and adjusting techniques, before adding study.
---
Ready to Apply?
Eligibility Criteria
Applicants must:
Be a registered Chiropractor or a 5th year student who is available to start at ACCC in Warners Bay between Nov 2023 and March 2024.
New (2023) or recent graduate chiropractor with 1 to 5 years experience
Has not completed the DCCP with Chiropaeds (if you have, consider applying for the Senior Chiropractor & Mentor role here)
Absolute passion for chiropractic care and really excited to develop skills to be a leader in care for children
Show evidence of interest in chiropractic care for children through observations, seminars or personal research
Incredibly diligent and committed to your studies! We have so much awesome content to cover - a thirst for learning is essential!
If you are applying for the Nov 2023 intake, once accepted you will begin working and training at ACCC with Chiropaeds starting in March 2023.
---
Applications Open Now
To apply for a role at Australian Children's Chiropractic Centre please send a short video (5min max) and cover letter about yourself an expression of interest for a position throughthe form below. If files are too large, please send directly to jacey@childrenschiropractic.com.au
Please include in your application:
Information about your chiropractic education & work/study ethic
Why you would be the perfect addition to our team and how you would make the most of this opportunity - make sure you research us first!
Your personal goals as a chiropractor who works specifically with children
Please note your video is reviewed on content, not on creativity. A simple video of you talking to the camera is all we are after.