Watching your babe achieve new skills makes your heart go a flutter! You're watching in awe as this little human, who you have brought in to the world, learns, develops and grows right before your eyes. Working on tummy time helps him to one day move on his own. He starts to lift his head and one day take those amazing first steps will be some of the most proud moments you have as a parent. Tummy time is such an important first step into the future.
Humble Beginnings
Complex skills like walking start from humble beginnings. Just as it takes time for you to learn new skills, there is an ordered progression of development that happened for babies to move forward. Your baby builds new skills from the smaller milestones achieved before. Tummy time is one of the key early skills to support the progression forward. When a baby is brand new neck and head stability is non-existent. From feedback through the nervous system, his little brain starts to make new connections helping build communication and control of his body. It's also the time where your baby starts to learn about gravity and the effort it takes to lift his (proportionally big and heavy!) head.
The power of tummy time is far reaching. Not only does tummy time help build head, neck and upper body strength it drives feedback to the brain helping to further grow those connections within the brain and support him to take those next steps towards spinal stability and new exciting milestones.
Trouble Shooting Tummy Time!
It can be tricky and it can be hard!
You may feel frustrated as your little one doesn't enjoy tummy time. Perhaps you haven't found a way that makes tummy time comfortable or fun. This is why we are holding our first developmental class, Lift Off! Tummy Time.

Lift Off! Marking Tummy Time Easy
Here you will learn in more detail the power of tummy time. Dive deep into childhood development and how to get the most out of tummy time.
This class is perfect for you if
Your little one is an early roller and doesnt stay on their tummy long
They hate tummy time with a passion!
You have been recommended tummy time to reduce pressure on a flat spot
Your a parent who wants to learn more about the incredible skill
This is the class for you!


Bring the skills and ideas from home and join us in a fun developmental workshop that will help troubleshoot your babes tummy time difficulties, learn new skills and put together a plan for you to do at home!
Join Us monthly!
9:30AM-10:15AM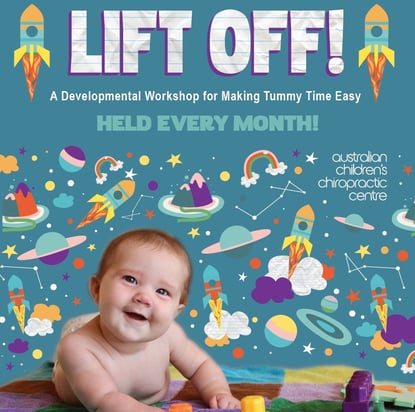 Places are limited.